Welcome! Just under three years ago I was in your shoes. A moving truck had just dropped off all our possessions from our Brooklyn apartment and my wife, an incoming Pediatrics resident, and I started excitedly sorting out what life in our new home was going to be like.
Still looking for somehwere to live? Res Aux has a whole website full of real estate listings (and other helpful tips).
Your month of June is going to be filled with unpacking moving boxes and attending orientation events but hopefully you'll use some of your extra time outside of the hospital to enjoy the things that make your new hometown unique.
To get you started, I've compiled a five-step guide to your first month in Danville and the greater Central Susquehanna Valley.
1. Find Some WiFi and Caffeine
Unless you called Service Electric in April it's very possible you don't have internet at home and won't for awhile. You now have the perfect excuse to go visit Boil Line Coffee.
I'm a bit of a coffee aficionado and have been to a good numbers of the famous roasters in New York and San Francisco; Boil Line holds its own against any of them.
Jeremy is a Danville-native who moved back to his hometown a few years to start Boil Line. It's a great place to meet up with friends and get to know a few of the locals.
And yes, the WiFi is fast.
2. Stock Your Kitchen
We live where the Philadelphia and New York's food is grown and we get to buy it straight from the people who grow it. The Ferry Street Grower's Market is every Saturday morning from May to November in the municipal parking lot north of Cole's Hardware.
If you're coming from a big city, one thing you'll notice right away is the price tag. Here, produce at the grower's market is significantly cheaper than the supermarket, especially later in the season where you can stock up on things like tomatoes or apples for canning or jarring.
3. Fill Your Growler
Old Forge is a hallmark establishment on Mill St, but being that it is the closest brewery to the hospital, you'll have plenty of opportunities to visit it over the course of your residency.
In your first month here, I'd venture further out to introduce yourself to PA's craft brew scene. There are many excellent options on the River Rat Brew Trail, but we'd recommend starting by making the drive to Rusty Rail and then working your way back.
4. Decorate Your Home
Drive either direction out of Danville on Route 11 and you'll pass a couple of antique shops. For a truly unique shopping experience, visit the Street of Shops in Lewisburg to pick out some items for your home from the 375 individual shops with one checkout that are all together inside of this old woolen mill.
The second-hand furniture here is a steal! We are currently upcycling some vintage dining room chairs that we got for $10 a piece.
5. Head To The Mountains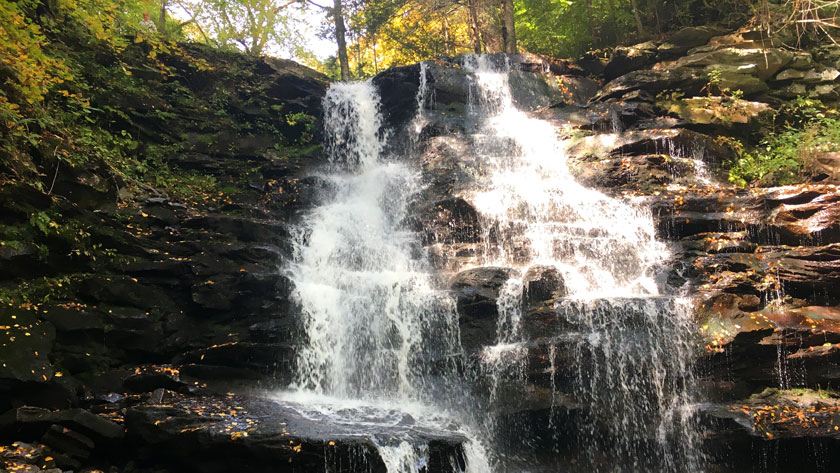 Ricketts Glen State Park is an hour's drive into the mountains north of Danville.
Ricketts Glen isn't just another state park. It was originally slated to become a national park. The federal government was occupied with WWII when the land was transitioned from private ownership so the Commonwealth took over.
The Falls Trail is the park's most famous trail and should be the focus of your first trip.
Looking for more adventure? Visit World's End State Park next. Hike the Canyon Vista trail for a good workout and cool off in the stream afterwards.